If you have severe heart disease, ask your doctor if you are eligible for going to cardiac rehabilitation (rehab), a supervised heart-healthy exercise and wellness program for heart attack survivors and some heart patients.

Harvard professor and cardiac rehab expert Dr. Daniel Forman says, "Ideally, cardiac rehab should happen before you have a heart attack if you have significant risk factors."
You'll have to get a doctor referral to participate. Cardiac rehab may really help you in making long-term lifestyle changes. But not all doctors automatically give referrals, especially if you haven't had a heart attack.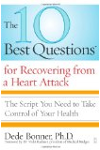 Continue Learning about Heart Disease