Being prepared in advance for your office visit can help you make sure your doctor receives all the information he or she needs. Write down notes about your medical history as well as other members of your family to take with you, if you think that may be helpful. You may also want to write down notes containing questions you have for your doctor. The questions below can help you start your list:
Does my personal and family medical history put me at greater risk for cardiovascular disease?
Do I have risk factors for cardiovascular disease that I can change (e.g., smoking, diet, etc.)?
How can I enroll in a smoking cessation program? (If you smoke and wish to quit.)
What level and type of exercise is appropriate for me?
Is there anything that I should be doing right now to improve my cardiovascular health?
Are there any specific activities or medications I should avoid?
If you have a recent diagnosis of heart disease or have had a heart attack, you face a whole new vocabulary of confusing and scary medical terms. Working with your doctor and asking good questions are your best defenses in fighting your heart disease and preventing your first or next heart attack.

Ask your doctor the following questions to understand your heart disease and your treatment options in more depth:
What type of heart disease do I have? What is its medical name?
What caused my heart disease?
What stage is my heart disease? Am I going to die soon?
Please explain my treatment options. Do I need tests, procedures, surgeries, or medications? Which ones do you recommend and why?
What are my specific heart attack risk factors? Which ones can I do something about?
What lifestyle changes do I need to make? Which changes are the most important ones in my case?
What else can I do to lower my chances of having a heart attack or stroke?
Am I a good candidate for participating in a cardiac rehabilitation program? Why or why not?
Am I eligible and a good candidate for participating in a clinical trial? Why or why not?
Where can I get more information about heart disease and how to prevent a heart attack?
How can I tell the difference between a heart attack and other pain?
Dr. Alfred Bove, the former chief of cardiology at Temple University Medical Center and the president of the American College of Cardiology, says, "Nowadays, it's really important for patients to know as much as they can about their illness. I'm an advocate of patient empowerment. The most important thing for people to understand is that they can understand their illness almost as much as the physician can. As a patient, you can talk to your doctor at the same level rather than having him talk down to you."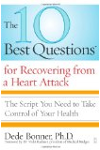 Review the following questions about heart disease so you're prepared to discuss this important health issue with your doctor.
What tests should I have, and how often, to monitor my risk factors for developing heart disease or other cardiovascular diseases?
What do my test results mean? Do I have heart disease?
What sort of treatment plan do you recommend?
Am I at high risk for heart-related complications if I take birth control pills?
What are the possible side effects of medications I've been prescribed?
What should I do if I experience chest pain or if I think I'm having a heart attack?
How can I tell the difference between angina and a heart attack?
I've heard there is new scientific evidence indicating that use of hormone therapy by postmenopausal women can actually increase a woman's risk of developing heart disease, as well as other diseases such as breast cancer. Is it safe to use hormone therapy?
What lifestyle changes can I make to improve my cardiovascular health?
Should I take aspirin to help prevent a heart attack? If so, how much and how often?
Some additional heart disease questions you might want to ask your family's healthcare providers include:
What are my/my children's risk factors for heart disease?
Should I lose weight?
How will menopause impact my risk for heart disease?
What kind of physical activity is right for me?
What are my blood pressure and cholesterol levels? What is considered normal for my kids?
What can I/we do to lower my/our risk of heart disease?
Heart disease is about numbers. In this video, Mary Ann McLaughlin, MD, medical director of the Cardiac Health Program at The Mount Sinai Medical Center, discusses what tests and numbers you should ask about if you're diagnosed with heart disease.
You should ask about what things you have done or are currently doing that would increase your risk for heart disease:

Do I have the correct diet? Am I getting enough exercise? What is my blood pressure goal? What is my cholesterol goal? Do I have diabetes or metabolic syndrome? Does my family history contribute to heart disease risk? Should I quit smoking?

Also ask about heart symptoms: What is angina? What are palpitations? Do heart attack symptoms usually radiate pain? What about symptoms like unexplained fatigue (which is a common symptom in women with heart disease)?
When you see your doctor about your heart, be prepared to ask about your numbers, risk factors, family history and any symptoms you are having. Watch cardiologist Suzanne Steinbaum, DO, explain the questions to ask - and why you need to take notes!
Continue Learning about Heart Disease