As you know from your first love (whether it was Sammy in seventh grade or Cheryl Tiegs in a bathing suit), the mind and body have a strong connection. You feel different when you're happy. In fact, you're healthier when you're happy. So it shouldn't be a surprise that your emotions can have an enormous impact on the way your body works.

Powerful negative emotional states are bad for your heart and are important enough to have a RealAge effect of eight years, so this is not just touchy-feely stuff. These emotions can cause high blood pressure, as well as disrupt your body's normal repair mechanism and constrict your blood vessels, making it even more difficult for enough blood to work its way through.

Various kinds of therapies-including learning relaxation techniques and meditation, and having friends you'd never think of getting angry with-can help you handle these damaging feelings in a healthier way and make your RealAge more than eight years younger.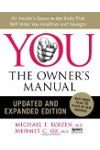 Continue Learning about Heart Disease