Tachycardia is defined by a heart rate over 100 beats per minute. There are three major types of tachycardia:
Atrial tachycardia (starting in the atria)
Supraventricular tachycardia (starting above the ventricles)
Ventricular tachycardia (starting in the ventricles)
Tachycardia is when a person's heart rate accelerates, or is faster than normal.
Tachycardia can be benign, called sinus tachycardia. It can be in response to fever, low hemoglobin level, anxiety or excessive caffeine intake.
Other kinds of tachycardia occur when the electrical system of the heart has some problems.
Tachycardia is a heart-rhythm disturbance, or arrhythmia. An electrical signal in the heart causes a contraction of the heart muscle, which not only pumps blood but creates your heartbeat. A problem along this electrical pathway causes an abnormal heartbeat. Tachycardia refers to the heart beating too fast, more than 100 beats per minute.
Continue Learning about Heart Disease Symptoms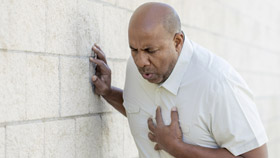 Heart disease symptoms can sometimes be subtle and overlooked, like feeling tired or having cold feet. Men have shortness of breath and chest pain symptoms with heart disease while women have symptoms like fatigue, back pain or ja...
w pain. Call your doctor if you are experiencing chest pain, heartburn or nausea, anxiety, shortness of breath, cold or hot sweats, a racing or thumping heart, light headedness or dizziness.
More