Plaques in the coronary arteries, which supply blood to the heart muscle, usually expand gradually with no symptoms until the artery is narrowed at least 70 percent. At that point, the need of the heart muscle for oxygen and nutrients may exceed the artery's ability to deliver it. In high-demand situations, such as during exercise or in cold weather, you may develop chest heaviness, which is relieved by rest. This symptom, called angina, can also feel like pressure, squeezing, fullness, or pain and be accompanied by shortness of breath. Not everyone has typical angina; some have discomfort in the arm, jaw, or stomach, or shortness of breath without discomfort, or fatigue.
Plaques may become fragile and rupture, causing complete obstruction of the artery — a heart attack. So, if chest discomfort or shortness of breath lasts for more than a few minutes or waxes and wanes, particularly if you also experience nausea, cold sweat, or lightheadedness, seek immediate medical attention. Time is of the essence in treating heart attacks, so dial 911 and let the emergency medical system perform its role.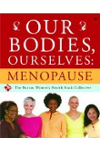 More About this Book
Our Bodies, Ourselves: Menopause
FROM THE EDITORS OF THE CLASSIC "BIBLE OF WOMEN'S HEALTH," A TRUSTWORTHY, UP-TO-DATE GUIDE TO HELP EVERY WOMAN NAVIGATE THE MENOPAUSE TRANSITION For decades, millions of women have relied on Our...
Continue Learning about Heart Disease Symptoms