The circulatory system uses blood to move oxygen through the body. The oxygen plays a crucial role in the process of making energy for life. When blood supply diminishes, tissues respond initially by extracting more oxygen. After this strategy runs its course, cells will begin the process of anaerobic metabolism: the production of energy without oxygen. This process produces carbon dioxide and lactic acid as waste. Anaerobic metabolism cannot be sustained indefinitely, and when both sources of energy are depleted cells begin to die.
Continue Learning about Heart Disease Symptoms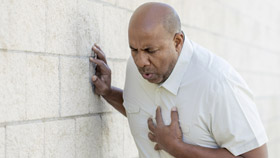 Heart disease symptoms can sometimes be subtle and overlooked, like feeling tired or having cold feet. Men have shortness of breath and chest pain symptoms with heart disease while women have symptoms like fatigue, back pain or ja...
w pain. Call your doctor if you are experiencing chest pain, heartburn or nausea, anxiety, shortness of breath, cold or hot sweats, a racing or thumping heart, light headedness or dizziness.
More