Dizziness may be your body's way of signaling heart disease. Your heart's job is to pump blood throughout the body, including distributing oxygen to brain. A weak heart, however, can't pump sufficient blood to brain, and without enough oxygen, you may suddenly feel dizzy or light-headed.
How can you tell if your dizziness is a sign of a heart problem? If, in addition to dizziness, you also experience nausea, sweating, shortness of breath, or pain in your jaw or neck, it may be a heart attack alert and you should seek immediate medical attention.
This content originally appeared on
doctoroz.com
Continue Learning about Heart Disease Symptoms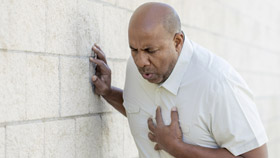 Heart disease symptoms can sometimes be subtle and overlooked, like feeling tired or having cold feet. Men have shortness of breath and chest pain symptoms with heart disease while women have symptoms like fatigue, back pain or ja...
w pain. Call your doctor if you are experiencing chest pain, heartburn or nausea, anxiety, shortness of breath, cold or hot sweats, a racing or thumping heart, light headedness or dizziness.
More