The consequences of poor hygiene habits often aren't immediately apparent, so it's tough for children -- and even adults, for that matter -- to see the connection. That's where you step in. Spend time talking to your kids about how their body works. Explain what role germs and hygiene play in keeping them healthy and in making them sick. Discuss both the short-term and long-term effects of good hygiene habits, and the consequences of neglecting these habits. Here are some effects of bad hygiene to share with your child:
Short-Term Effects of Bad Hygiene:
Itchy skin, outbreaks, rashes
More colds and flu
Bad breath
Body odor
Social difficulties
Pinworm
Food poisoning
Long-Term Effects of Bad Hygiene:
Scarred skin from outbreaks
Depressed immune system, more susceptible to disease
Cavities, gingivitis
Serious infections
Career difficulties
Social isolation
Depression
From
Good Kids, Bad Habits: The RealAge Guide to Raising Healthy Children
by Jennifer Trachtenberg.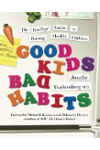 Start teaching your kids early about oral hygiene so they will develop excellent habits that will take them throughout their lives. Brush and floss your children's teeth until they are 6 or 7 years old, and then when they're ready, teach them how to brush and floss their teeth on their own. It's a good idea, however, to continue supervising their daily mouth care for a few more years.

Take your children to the dentist for regular checkups and cleanings, where they will also learn the benefits of good oral hygiene.
Continue Learning about Heart Disease and Oral Health