The healthier your mouth and gums are, the more likely you are to be healthy overall. Your mouth is a window into the health of your body. It can show signs of nutritional deficiencies or general infection. Systemic diseases, those that affect the entire body, may first become apparent because of mouth lesions or other oral problems although there is no conclusive research showing that severe gum disease raises a risk of heart disease.

You can practice good oral hygiene by always brushing your teeth twice a day with an ADA-accepted fluoride toothpaste, cleaning between your teeth once a day with floss or another interdental cleaner, replacing your toothbrush every three or four months and by eating a balanced diet and limiting between-meal snacks. Your dentist may also recommend an antimicrobial mouthrinse as part of your oral hygiene routine. Don't forget to schedule regular dental check-ups to keep your smile, and yourself, healthy.
A number of studies suggest that developing gum disease may increase your risk for heart disease. Researchers are not certain why that is the case, but several theories might explain the link. Bacteria in the mouth can cause a serious form of gum disease known as periodontitis. These same bacteria may contribute to the formation of blood clots that cause heart attacks. Periodontitis also increases levels of inflammation, which increases the risk for heart disease. The good news is that treatment for periodontitis seems to lower the risk for heart attacks.

Everybody knows the two primary uses for teeth: eating and stopping hockey pucks. But what may surprise you is that your teeth can provide clues to your heart health like virtually no other outward part of your body.

Why? The biggest concern when it comes to aging and your teeth isn't the presence of cavities; it's the presence of periodontal disease, which can have a RealAge effect of making you up to 3.7 years older.

Gum disease (gingivitis) has been linked to many other health problems, presumably because the same bacteria that cause periodontal disease can also trigger an immune response that causes inflammation and hardening of the arteries.

The same plaque that causes tooth decay-that sticky coating of bacteria, saliva, and three-day-old cauliflower-can also contribute to the plaque in your arteries. And that has a profound effect on all kinds of vascular problems, from heart attacks to erectile dysfunction.

Here's a telling fact: Many people in Great Britain don't have regular dental care because it's not provided free through the National Health Service. But when someone in Great Britain goes to the hospital with chest pain, they're given as aspirin, a beta blocker, and an antibiotic for gum disease because of the strong link between gum-disease inflammation and an aging, unstable cardiovascular system.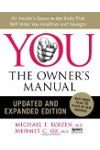 Continue Learning about Heart Disease and Oral Health