Knowing these warning signs can save your life.
A heart attack is a medical emergency. If you have the symptoms of a heart attack, seek immediate medical help by calling 911, even if you aren't sure.
Don't wait for more than five minutes
.
Some heart attacks are sudden and intense, but most heart attacks start slowly with only mild pain initially. That is why some people wait too long to get help.
Here are the warning signs:
Chest, neck, jaw, back, or arm pain
Upper body discomfort
Heaviness in the chest
Squeezing or a tight band around your chest
Shortness of breath
Cold sweat
Nausea or vomiting
Lightheadedness
Kathy Berra, MSN, the clinical director of Stanford University's Heart Network, simplifies the list of "triggers" for heart symptoms or chest pains. She says, "Remember the four E's: exercise, exertion, exposure to cold, and eating a large meal. If you have any warning signs plus one of the four E's, be sure to let your doctor know immediately. If the symptoms don't go away with rest, call 911 and go to the nearest emergency room."
Women are more likely than men to experience the less common symptoms, like nausea and shortness of breath. See the American Heart Association's Web for more information.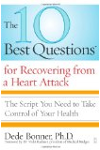 Continue Learning about Heart Attack