The diagnosis of a heart attack is made from your symptoms, the electrocardiogram, and blood tests taken during your initial evaluation. Once you are well enough to have a conversation with your doctor, ask the following questions. A loved one or a nurse can also ask these questions on your behalf:
Did I have a heart attack? How do you know for sure?
Why did I have this heart attack? What caused it?
How much heart damage is there? Where is the damage located? Is my heart permanently damaged?
What is my ejection fraction?
Which tests, treatments, and medications was I given?
Please explain my treatment options for interventions, surgeries, or medications. Which ones do you recommend and why?
What can I do to help prevent another heart attack?
Which lifestyle changes are the most important and will make me feel better?
Will you give me a referral for a cardiac rehabilitation program? How soon can I start?
Considering my age and physical condition, how long will my recovery take? When can I resume my normal activities?
What are the warning signs of another heart attack?
Ask your doctor for the basics now. You can learn more about your heart disease and how to manage it during follow-up conversations or office visits with your doctor. If possible, use a notepad or recording device to capture the doctor's answers, or ask a family member or a nurse to take notes for you. There may be a lot of information coming at you just as you are on the verge of an emotional meltdown.

There is nothing more comforting or empowering than being a well-informed patient. Don't be afraid to ask other questions or for the doctor to repeat anything you don't understand.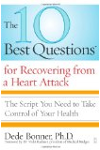 Continue Learning about Heart Attack