The ejection fraction is a comparison of the quantity of blood ejected from the heart's left ventricle during its contraction phase with the quantity of blood remaining at the end of the left ventricle's relaxation phase. A normal ejection fraction reading is between 60 and 70 percent.

If the heart muscle is damaged during a heart attack, it has an impaired ability to eject blood. This reduces the ejection fraction, which can result in heart failure.

The ejection fraction is one of the most important predictors of your prognosis (long-term health outlook). People with a significantly reduced ejection fraction typically have a poorer prognosis. However, with time to heal, the use of medications for heart failure, and healthy lifestyle changes, your heart can improve its ability to pump blood.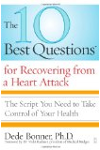 Continue Learning about Heart Attack