Studies have shown that taking a low-dose aspirin every day significantly lowers the risk of heart attacks. Aspirin can benefit people at high risk of a heart attack, such as those with diabetes and other risk factors such as high blood pressure. It can also help people with diabetes who have had a heart attack or a stroke, or who have heart disease. However, aspirin's effects have not been studied in people under age 30.
Aspirin is a common, inexpensive drug that helps protect survivors of heart attack and stroke from subsequent heart attacks and death, and even helps reduce the number of deaths that occur within the first hours following a heart attack. Dozens of studies involving tens of thousands of people have shown that low-dose aspirin reduces the risk for heart disease and stroke by about 25%. But determining who benefits from aspirin -- and how much to take -- has been uncertain.

Updated guidelines from the U.S. Preventive Services Task Force (USPSTF) helped clarify these questions. In general, you should consider taking aspirin if its benefits outweigh its risks. For men, the main benefit is preventing a heart attack; for women, it is preventing an ischemic stroke (the type caused by a blockage in an artery feeding the brain).

For both men and women, aspirin's main risks are gastrointestinal bleeding and hemorrhagic (bleeding) stroke. As with heart disease, the risk of bleeding complications rises with age.
Aspirin can help prevent platelets in your blood from clotting too easily. It may also help maintain normal blood flow to the heart, even if you have atherosclerosis.
When you take aspirin, it attacks and blocks a natural compound, thromboxane, that promotes blood clotting. Heart attacks often occur when blood clots form over cholesterol plaques within blood vessels around the heart. The cholesterol plaque itself forms a partial blockage; if the plaque ruptures, it attracts platelets, which form a clot. As the clot grows, it can block the artery and halt blood flow to heart muscle tissue, causing a heart attack. By thinning the blood, aspirin makes it harder for that clot to form and keeps blood flow open.
This content originally appeared on
doctoroz.com
Aspirin reduces the action of platelets -- small cells in the bloodstream that can clump together to form clots. When these clots form in the arteries of the heart, it can lead to a heart attack. A common dose for daily aspirin therapy is 81 milligrams, the same amount as in baby aspirin. Several studies have shown that low doses can be just as effective as larger doses at minimizing heart attack and stroke risk, while also reducing the risks of complications such as bleeding.
Continue Learning about Heart Attack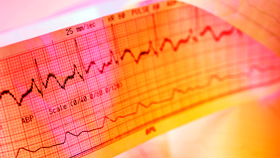 Heart attack (myocardial infarction (MI), is the leading cause of death among Americans. It often results from coronary artery disease, the most common form of heart disease to affect adults. See your doctor immediately if you fee...
l pressure or a squeezing sensation in your chest, neck, jaw, shoulders, back or arms, especially if it's accompanied by sweating, nausea, vomiting, or shortness of breath.
More