A heart attack is basically a blockage in the blood vessels that supply the heart. These vessels supply blood that contains nutrients and oxygen that keep the heart strong and healthy. When heart cells do not get nutrients and oxygen, they die and cannot regenerate. These dead heart cells are unable to contract and cannot help the heart pump blood to the rest of the body.
Time spent is heart muscle lost. The longer it takes to get medical attention after the onset of your heart attack, the more heart damage there is. The heart muscle that has lost blood supply begins to die. The amount of damage depends on the size of the affected area and the time between onset and treatment.
If blood flow is not restored within a few minutes, the affected heart muscle cells can suffer permanent damage or die. Irreversible death of the heart muscle begins within twenty to forty minutes from onset. But the heart is very tough and can keep working even if a part of it has died. The heart heals itself by forming scar tissue.
Future complications depend, in part, on the location of the damage (either the right or the left ventricles, which are the lower heart chambers). Your outcome is worse if the heart attack has caused significant damage to the heart muscle and has resulted in heart failure. Heart failure can be treated with medications and lifestyle changes. Ask your doctor to explain more.
In addition, heart muscle damage can result in damage to the electrical signaling system that tells the heart to contract. Some people need a pacemaker to correct this function of the heart muscle.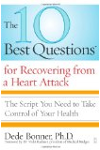 Continue Learning about Heart Attack