Hearing loss (or presbycusis if you prefer) affects a whopping one-third of all people over 65 and half of people over 75, and the rate of loss accelerates like a hot rod as we age. While hearing loss isn't one of those things that's going to kill you or have you escorted into the back of the ambulance (unless it was a horn you didn't hear), it is one of biggest things that can influence your quality of life and ultimately your health.

When you can't hear as well, you limit your social interaction so you don't have to go through the awkwardness of missing the punch lines to jokes or constantly asking the barista to repeat herself. The depletion of social networks can cause a tangible decrease in your length and quality of life.

In fact, hearing loss can age you at least four years in RealAge terms, mainly due to the social isolation that typically accompanies hearing loss. Bottom line: If you do what you can to save your hearing, you'll feel younger—and be younger.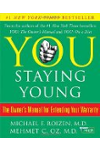 Continue Learning about Hearing Damage