There are three classic types of smiles that include the following:
Mona Lisa (two-thirds of people): The corners of the mouth are pulled up and out, and the upper lip is raised to show the upper teeth. The most attractive show all of their top teeth and about two millimeters of gums (any more and the smile is classified as "gummy"). The Mona Lisa smile is considered the most attractive, with the upper and lower lips moving half an inch and up at a 40-degree angle.
The Canine (one-third of people): A particular muscle (called the levator labii superioris, for you anatomy junkies) is dominant, and exposes the canine teeth before the full smile.
The Full Denture (rare): All of the upper and lower lip work overtime to expose the whole dang shebang of teeth.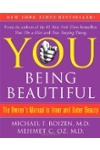 Continue Learning about Healthy Teeth & Mouth