It's important to establish a good oral health routine at a young age, even before children have teeth. Begin cleaning your baby's mouth during the first few days after birth by wiping the gums with a clean, moist gauze pad or washcloth. As soon as teeth appear, decay can occur.
If your child doesn't have teeth yet, take a clean wet cloth or gauze pad and gently wipe your child's gums after feedings. This will remove any bacteria-containing plaque and excess sugar that may have built up. As soon as the first tooth appears, you can brush gently with a soft, infant-sized toothbrush and water.

From Good Kids, Bad Habits: The RealAge Guide to Raising Healthy Children by Jennifer Trachtenberg.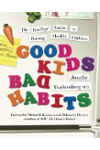 Continue Learning about Healthy Teeth & Mouth