Heavy foods too close to bedtime can upset your sleep as much as they upset your stomach. The best bedtime snack is nothing. Eating provides energy and that runs counter to prepping the body for rest. If you need to take a medication or if you are breastfeeding and up during the night, then maybe a liquid such as plain coconut water will satisfy you. This requires no extra digestive work; it's a diluted amount of carbohydrates that also provides potassium for hydration, which will help the body with recovery. To balance it out, you could have 10 to 15 nuts with it.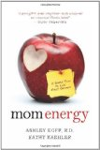 More About this Book
Mom Energy: A Simple Plan to Live Fully Charged
       From celebrated dietitian Ashley Koff and fitness trainer to the stars Kathy Kaehler comes Mom Energy, an exciting new way for moms to tap into their own natural and renewable sources of...
What you eat and drink influences how well your body gets ready for bed. If your habit is to have a late dinner and then go to sleep within an hour or two, the activity of digestion will keep your brain and body awake longer.

For your evening meal, you don't want to exceed 500 to 700 calories at least two hours before bedtime. Avoid eating a lot of protein in that meal because protein contributes to alertness. Carbohydrates, which tend to have a calming effect, are a better choice.

You might want to rethink that brownie after dinner or late afternoon cup of tea as well. People with sleep problems who drink caffeinated coffee, tea or soda, or eat chocolate (which contains caffeine) ought to eliminate or reduce their caffeine intake. Caffeine stays in your system for up to seven hours and may keep you alert for 20 hours.

It also stimulates restless legs syndrome (RLS), a condition that can cause insomnia and makes it hard to fall asleep. If you don't want to give up caffeine entirely, time your consumption to end by midday.

Does a full bladder regularly wake you up at night? It helps to time your last beverage for about three hours before bedtime. Even if you don't have that problem, forget the nightcap. Alcohol may make you drowsy at first, but it causes fragmented or light sleep once your body starts metabolizing it.
Continue Learning about Healthy Sleeping