Research provides strong evidence that you may be harming your health by restricting your sleep. Getting less than 7 hours of sleep on a regular basis increases your risk of several adverse health outcomes. Health problems linked to insufficient sleep include:
weight gain and obesity
diabetes
high blood pressure
heart disease
stroke
depression
impaired immune system
increased risk of death
Sleeping less than 7 hours per night also can impair your performance. You have an increased risk of errors and accidents when you don't get enough sleep each night.
This content originally appeared on the American Academy of Sleep Medicine website.
Sleep deprivation has a wide range of negative effects that go way beyond daytime drowsiness. Lack of sleep affects your judgment, coordination, and reaction times. In fact, sleep deprivation can affect you just as much as being drunk. The effects include fatigue, lethargy, difficulty concentrating, lack of motivation, moodiness and irritability. There may also be reduced creativity and problem-solving skills and inability to cope with stress. Physical health may also be affected through reduced immunity, frequent colds and infections, weight gain, increased risk of diabetes, heart disease and other health problems.
The consequences of not getting enough sleep can be severe. Insufficient sleep is associated with memory and cognitive impairment, decreased performance and alertness, increased risk for cardiovascular disease, diabetes, obesity, depression and other chronic conditions, and increased risk for motor vehicle accidents. The signs of insufficient sleep are fairly easy to recognize but often overlooked.
To risk giving you some news that may keep you up late at night, lack of sleep is potentially dangerous to your well-being. And not just serious sleep disorders such as sleep apnea, but merely not getting the prescribed 7-8 hours of sleep per night can be hazardous to your mental and physical health.
For those who don't get enough sleep because of insomnia or lifestyle, you need to take action. Just consider these two studies:
Death rates from cardiovascular events doubled when workers decreased their regular sleep patterns from seven to five hours per night, according to a British study. These results persisted even after adjusting for other risk factors.
Research in the American Journal of Clinical Nutrition found that men who had a night of short sleep took in 22% more calories than when they slept the recommended eight hours. The average calorie increase was about 560.
So lack of sleep can make you fatter and more susceptible to heart attacks. Unhealthy sleep patterns can also raise your risk of diabetes and depression.
Accumulated sleep deprivation will cause physical, emotional and mental problems. These can include: decreased coordination, sexual impairment, decreased circulation, lowered metabolism, eventual insulin resistance, weight gain, depression, memory problems, headaches and migraines, greater pain sensitivity, and emotional instability.
Most of us don't get enough sleep, and that plays a significant role in our aging. In fact, people who sleep fewer than six hours a night have a 50 percent increased risk of viral infections and an increased risk of heart disease and stroke. Plus, lack of sleep is associated with mental decline and overeating (which leads to major aging conditions).

Even worse, we don't care enough that we don't get enough sleep, even though it's one of the major things that make us feel old. Most of us think that a lack of sleep—be it for a night, or a week, or a lifetime—is no big deal. We go on our way, trudging through our daily lives tired, defeated, sluggish, caffeine infused, and longing to sledgehammer the alarm clock at 6:07 every morning.

Few of us are losing sleep about losing sleep, but not sleeping is not merely making you more agitated than an out-of-balance washing machine. It could be killing you.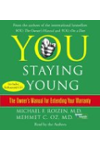 Continue Learning about Healthy Sleeping

Healthy sleep isn't just about getting enough sleep; getting the right kind counts, too. While you sleep your brain stays active, and it actually takes several stages of sleep to make you feel well and refreshed. Just how much sle...
ep we need changes as we age, from 16 to 18 hours a day for newborns to 7 to 8 hours a night for adults. If you find yourself feeling tired or fatigued during the day even after a full night in bed, you may have a sleep disorder. See your family doctor or a sleep specialist for help.
More