The best thing to do is prepare your bedroom for sleep. This involves making sure the temperature is at a cool and comfortable setting, reducing light exposure, limiting and eliminating bothersome noises—making sure the room is exactly how you want it to be when your head hits the pillow.
Cut your screen time! That means staying off your lap top, PC, or smart phone for at least 90 minutes before your intended bed time to best prepare for a good night's. It sounds crazy, but no more texting and emails late in the evening- it really winds up your brain when you need to be winding down.
The screen lighting and the rapid eye movements using these items, just keeps the brain awake and interferes so much with your much needed rest and sleep preparations. Make a commitment to this and it is likely to be a huge help if you struggle with sleep.
Some individuals can do Television in the evening and enjoy this to relax at night - probably best not in the bedroom and if you are still struggling- turn off the TV as well.
Good relaxation routines are imperative such as reading, listening to relaxing music, warm soaks in tub or shower, aroma therapy candles, and even guided imagery audio programs- can work wonders!
Botanical and nutritional support options are available that may help you further such as something simple like a Bedtime Herbal Tea. Other considerations may include Valerian root, Melatonin, Phosphatidylserine, Griffonia Seed[5htp], Gaba - just to name a few for you to research and consider for added support.
Most of us do things at night that are counterproductive to sleeping. Instead, make slight changes in your rituals to prepare your body for rest:
Dim your lights several hours before bed to avoid the stimulation caused by artificial light pollution—which is all around us through TV, computers, and indoor lighting—and serves to stimulate us.
Come up with a regular, rhythmic evening ritual that allows you to embrace anxieties that are released when you slow down. Meditation, prayer, and deep breathing are all good methods.
Surrender to sleep. After all, you go to the movies; you shouldn't go to sleep. There is nothing you have to do to sleep—except let go of waking. Practice "dying" into sleep, rather than forcing yourself to sleep, and cultivate awareness of your personal twilight zone.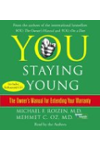 Some ways to prepare your body for rest include enjoying relaxation drinks or green tea, deep breathing, walking outdoors and creating a consistent sleep routine. Watch internist and sleep expert Carol Ash, DO, discuss these strategies for calm.
Continue Learning about Healthy Sleeping