Washington State University researchers documented how active brain cells release adenosine triphosphate (ATP) -- the molecule that provides energy for physiological processes -- to start the events leading to sleep. The ATP then binds to a receptor responsible for cell processing and the release of cytokines, small signaling proteins involved in sleep regulation. By charting the link between ATP and the sleep regulatory substances, the researchers found the way in which the brain keeps track of activity and ultimately switches from a wakeful to sleeping state. For example, learning and memory depend on changing the connections between brain cells. The study shows that ATP is the signal behind those changes. Pretty cool stuff, and once again a reminder that energy has as much to do with how we feel during our waking minutes as it does with how well we sleep at night and prepare for another active day.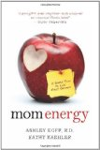 More About this Book
Mom Energy: A Simple Plan to Live Fully Charged
       From celebrated dietitian Ashley Koff and fitness trainer to the stars Kathy Kaehler comes Mom Energy, an exciting new way for moms to tap into their own natural and renewable sources of...
Continue Learning about Healthy Sleeping