Caffeine can certainly mask the effects of sleep deprivation by waking you up, but you still need real sleep to refresh your mind and body. In this video, I will explain why caffeine cannot make up for a lack of sleep.
Sleep experts in Switzerland found that sleep deprivation temporarily worsened people's mental capabilities. When these same sleep-deprived people had caffeine, simple mental processes did improve. Complex mental activities, however, do not improve with caffeine. So don't use caffeine to avoid feeling the need for sleep. Taking the time to get adequate sleep will improve your performance and productivity, making up for the time "lost" by sleeping.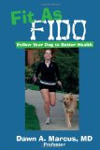 More About this Book
Fit As Fido: Follow Your Dog to Better Health
Let your dog teach you to live a happier, healthier, and more fulfilling life! Companionship with your pet can be used as a means and a motivator to increase your own physical and mental fitness....
Continue Learning about Healthy Sleeping