Dr Oz has a good list, which I endorse: I would add several other foods for specific conditions, according to ChefMD's Big Book of Culinary Medicine.
Cocoa powder: Women who drank a high flavanol (meaning anti-inflammatory) cocoa powder every day changed their skin: it became 12 percent thicker and more moist. Cocoa acts as UV blocker. Get the stuff without sugar added.
Black tea with citrus peel: Two or more cups of hot black tea daily dropped skin cancer rates by 88% in a study done in Arizona.
Vegetables and oilve oil: A study of Greek and Swedish people, living at home and abroad showed that those who ate the most of each of these foods had the least wrinkling.
And a food to avoid: alcohol, especially in binges. People who binge drink have the greatest sunburns, in a bad way.
There are many nutrients that play an important role in skin health and thus should be part of your nutritional armor. One of the top nutrients is antioxidants, which are critical in order to maintain the integrity and strength of cells, including skin cells. The primary antioxidants are Beta-carotene, Lutein, Lycopene, Selenium, Vitamin A, Vitamin C, Vitamin E and powerful Bioflavonoids such as quercetin. Omega-3 EPA/DHA (from fish and fish oil supplements) is also important to help decrease inflammation that often manifests in the skin as "dermatitis."
Food sources of Beta-carotene include sweet potatoes, carrots, kale, spinach, turnip greens, winter squash, collard greens, cilantro and fresh thyme. Food sources of Lutein include eggs, kale, spinach, turnip greens, collard greens, romaine lettuce, broccoli, zucchini, corn, garden peas and brussels sprouts. Foods highest in lycopene include tomatoes, pink grapefruit, watermelon, and guava. Other foods containing small amounts of lycopene include persimmon and apricots. Those foods high in selenium include button mushrooms, shitake mushrooms, cod, shrimp, snapper, tuna, halibut, calf's liver, and salmon. Food sources rich in Vitamin A include carrots, calf's liver, spinach, sweet potato, kale, turnip greens, winter squash, collard greens, swiss chard, and red bell peppers. Vitamin C is abundant in parsley, broccoli, bell pepper, strawberries, oranges, lemon juice, cauliflower, papaya, kale, mustard greens, and Brussel sprouts. Mustard greens, chard, sunflower seeds, turnip greens, almonds and spinach are all excellent sources of Vitamin E. Quercetin is found in black and green tea, onions, tomatoes, apples, elderberries, and citrus fruit.
Other foods that may help with internal defense as nutritional armor against skin damage and aging are brazil nuts (good source of selenium), berries (good source of Vitamin C and E), Avocados (good source of Vitamin C and E), dairy products (excellent source of Vitamin A), and Green tea (contains Vitamin C and E). So, for healthy skin adopt a Mediterranean diet, eat lots of "oily" fish and eat lots of fruits and vegetables.
Your skin is your largest organ. Keeping it healthy and red-carpet glowy goes way beyond the right facial or access to a cosmetic dermatologist. It begins at home -- with a healthy digestive system, proper hydration, and regular exercise. The secrets to great-looking skin aren't all that secret by now. They originate in the diet:
Go Pro: Add probiotics to your diet.
Animal Exchange: Choose vegetarian fats and proteins rather than animal fats and proteins (e.g., scoop up nuts and seeds, and spread their oils and butters; and swap your steak for quinoa).
Don't Have a Cow: Skip dairy in favor of healthy vegetarian sources of protein, such as quinoa and hemp seeds. Or opt for organic dairy in limited amounts (e.g., pass on cheese, but pass the organic eggs).
Get Green and Yellow: Get your organic greens in several times daily to help with detoxification and use lemons and limes, which provide alkalinizing benefits in the digestive tract.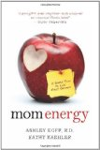 More About this Book
Mom Energy: A Simple Plan to Live Fully Charged
       From celebrated dietitian Ashley Koff and fitness trainer to the stars Kathy Kaehler comes Mom Energy, an exciting new way for moms to tap into their own natural and renewable sources of...
Here are five of my favorite superfoods for age-defying beauty and overall vitality:
Water. Okay, so it's not technically a food, but dermatologists, surgeons and primary care doctors agree, dehydration is so detrimental to the human body and skin that it should be given a lot more attention. If you want your skin to "glow from within" and keep its youthful appearance longer, then drink more water.
Green tea. Flavonoids and polyphenols, including those found in green tea, are considered to have free radical-neutralizing and cancer-fighting properties. Boost your body's natural ability to bounce back from stress, illness and fatigue by drinking 2 to 4 cups of authentic green tea every day -- and enjoy the skin-protective benefits, too!
Antioxidant-rich fruits and veggies. Prevent the onset of blindness and cataracts by eating more dark-colored fruits and vegetables. Several studies report that consuming antioxidant-rich foods (such as dark berries, cherries, spinach, etc.) is associated with a decreased risk for cataracts. Vitamins E and C and the B vitamins niacin and riboflavin (vitamin B2) may protect against cataracts, too. Carotenoids, especially lutein (found in egg yolks and bright yellow vegetables), and zeaxanthin (found in dark green, leafy vegetables), may also help prevent macular degeneration, the most common cause of irreversible blindness in the elderly.
Extra-virgin olive oil. This monounsaturated fat has proven benefits for lowering bad cholesterol and also has the ability to provide a healthy glow to our skin. Extra-virgin olive oil, produced by pressing olives without the use of heat or chemical treatments, contains phytochemicals that are lost in the refining process. According to the FDA, you may reduce your risk of heart disease by consuming about 2 tablespoons of olive oil a day. It is best to substitute olive oil for saturated fats you would otherwise have.
Natural sweeteners (stevia plant). Basic table sugar is a pro-inflammatory, age-accelerating molecule. The higher the sugar content of our diets, the more AGEs, or advanced glycation end products, we make. AGE formation changes the chemical and biological properties of proteins inside and outside of the cell, which leads to cellular dysfunction and cell death. If you want your skin to be smooth and wrinkle-free for many years to come, limit your use of table sugar and opt for stevia (a root), which does not add inches to your waistline, either.
Perhaps the only food you associate with skin is a little whipped cream on Saturday night. But a lot of foods are good for your skin. Here are some of our favorites:
Eggs: (yolks unfortunately), legumes, avocados, soybeans, and nuts: All of these contain biotin, an essential chemical for fat and carbohydrate metabolism. A lack of biotin (caused by taking too many antibiotics or an inadequate diet) can lead to dry skin or dermatitis of the face or scalp. (A deficiency can also cause your hair and nails to become brittle and frail.)
Salmon: It contains astaxanthin, the carotenoid that gives salmon its pink color, which improves skin elasticity, and the good fat DHA-omega-3, which also makes your skin and hair look younger and healthier.
Green Tea: The polyphenols have free oxygen radical scavengers that protect against photodamage and thicken epidermis. It can be taken orally or topically. And it may help sunburn.
Pomegranates: In addition to thickening the epidermis and prolonging fibroblast life to produce more collagen and elastin, they contain antioxidants that seem to accelerate wound healing.
Tomatoes: The nutrients in these reduce the chance that you will get a sunburn, so bulk up on tomatoes (with a little lipid like a few walnuts before hand - so the active ingredients are absorbed) before your annual summer vacation. While it may be because of the lycopene they contain, we really do not know the active ingredient is, so enjoy the tomatoes rather than just a lycopene supplement.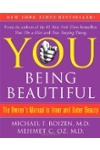 Here are some foods that are important for healthy skin:
Kiwi: Kiwi provides tons of vitamin C. Vitamin C produces elastin and collagen, which give skin its elasticity. Collagen breaks down as people get older and causes wrinkles. Vitamin C counteracts this process.
Salmon: Salmon -- and other fatty fish such as mackerel, tuna and trout -- will improve the overall condition and appearance of skin. That's all thanks to its array of nutrients.
Watermelon: This fruit, which is synonymous with summer, is loaded with water to hydrate skin. Plus it boasts vitamin C, which helps the skin's elasticity, and antioxidants that prevent signs of aging.
Yellow pepper: Want to fight wrinkles? Then eat vitamin C-rich peppers. They also contain vitamin E (which helps repair damaged skin), vitamin A (which keeps skin moist) and carotenoids (which decrease the skin's sensitivity to the sun).
Tomatoes: To protect your skin against sun damage, chomp on some tomatoes. They provide the bright red pigment that is naturally found in the skin, called lycopene. Lycopene, which is found in higher levels in cooked, processed tomatoes, protects against the sun's harmful ultraviolet radiation.
Oysters: Eat oysters to help wounds heal and prevent scarring. Oysters contain the important trace metal zinc, which promotes wound healing. Oysters can help prevent wounds from breaking down and keeps skin strong during healing. You can also get zinc from nuts, lobster, beans and crab.
Berries: Berries like strawberries, blueberries, blackberries and raspberries offer antioxidants, which help protect the skin from the sun's damaging effects. Eating these foods also may help prevent signs of aging skin, like dryness and wrinkles.
Cucumber: Beauty buffs know that cucumbers can be applied to the face to help relieve puffiness under the eyes. Eating them is beneficial, too. They help hydrate the skin because they're made mostly of water.
Pineapple: The tropical fruit contains bromelain, which is thought to fight inflammation. Lessening inflammation can improve skin's appearance and may relieve suffering from sunburn.
Citrus fruits: Citrus fruits like grapefruits, lemons, limes and oranges boast nutrients like vitamin C that help keep skin youthful looking.
This content originally appeared on HealthyWomen.org.
Continue Learning about Healthy Skin