Moderate exercise boosts circulation and delivery of nutrients to skin cells, helping to detoxify the body. Exercise also boosts oxygen and other nutrients to the skin, helping to increase collagen fiber regeneration.
The benefits of exercise for your skin continue after you stop moving—the increased relaxation you feel after exercise shows on the face with lessened muscle tension and fewer worry lines. The skin color is also improved after exercise because of the increase in blood flow to the skin.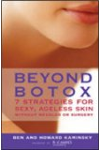 Exercise promotes healthy skin in several ways. For starters, getting your heart beating faster by taking a brisk walk or playing tennis increases your circulation. That means your blood is delivering a greater amount of oxygen and nutrients to your skin. A hard workout also makes you sweat, which helps unclog pores and may make you less likely to develop acne. Regular exercise can help you to feel more at ease and relaxed; being stressed out produces hormones that cause acne breakouts. Just be sure to wash with soap and water soon after exercising, since lingering sweat on the skin can make acne worse.
Working out improves circulation and blood flow, which gives skin a healthy glow. "When exercise turns you pink, you're dilating all the blood vessels in your skin and washing the area with nutrient- and oxygen-rich blood," explains Ellen Marmur, MD, associate professor of dermatology and genetics at Mount Sinai School of Medicine. Plus, research suggests exercise helps skin repair itself and may even protect against skin cancer. Dr. Marmur's prescription: 30 minutes of aerobic activity three or four times a week. Just be sure to wear sunscreen if you do your workouts outdoors.
Take the RealAge Test!
Continue Learning about Healthy Skin