Scientists are closely studying the relationship between nutrients in the diet and skin health. For example, studies suggest that the healthful oils found in fish and other seafood help to control inflammation in the body. Research suggests that eating fish may help people manage certain skin conditions caused or worsened by inflammation.
Some preliminary studies suggest that consuming high levels of certain vitamins (such as vitamin C) and some types of foods (such as vegetables) may also benefit your skin. Talk to a dermatologist about choosing foods that can promote your skin's health.
Continue Learning about Healthy Skin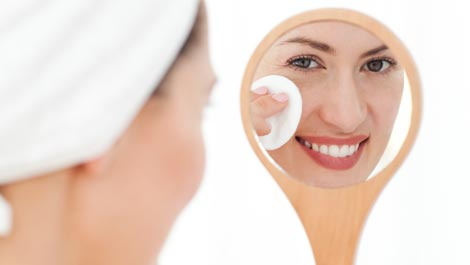 Staying out of the sun and away from tanning beds is the easiest way to get great-looking skin. The suns UVB and UVA rays cause skin damage, which is prematurely aging, and skin cancer. Every day you should wear a broad-spectrum s...
unscreen, which blocks UVB and UVA rays, with an SPF of 15 or higher. Reapply at least every two hours while outdoors. For a dewy glow, use skin-care products with 10 ingredients or less to reduce irritation, use moisturizer and feed your skin from within. Dark chocolate and antioxidant-rich foods such as cantaloupe, citrus fruits, blueberries and leafy greens improve the skin's appearance.
More