Antioxidants fight free radicals, protecting your cells from the damaging effects of these unstable molecules, or free radicals. Free Radicals are toxic to our skin cells and result in the oxidation or aging appearance of our skin. They can be either environmental factors, such as climate, stress, pollutants or internal factors, such as stress, smoking, or metabolic changes.
Skincare products with high values of antioxidants nurture your skin and shield it from the damaging affects of free radicals. Antioxidants work to repair the unstable, or unpaired, molecules, literally neutralizing the damage and repairing the skin to its natural supple state.
Antioxidants are an important part of an effective skincare product.

Antioxoidants can be an effective antidote for aging skin. In this video, Dr. Oz guest Anne Chapas, M.D., explains how antioxidants can help ward off wrinkles and lines.
These are ingredients that neutralize free radicals, which are molecules with unpaired electrons. Free radicals are by-products of cell metabolism and they try to get electrons from other molecules. The resulting damage leads to a cascade of events of which the end result is inflammation and an acceleration of the aging process. When antioxidants are used on the skin, even if they don't penetrate beyond the upper layers, they can help to stop or slow the process of oxidation caused by free radicals and keep the cell membranes more stable. The problem with some antioxidants is that they themselves are not stable, so as soon as they are exposed to oxygen or light they break down. The trick is to create antioxidants that are stable, effective, not irritating and in adequate concentrations to exert an effect. Reputable skincare lines do contain stable antioxidants. Examples of antioxidants used in skin care products are grape seed extract, green tea extract, and vitamins A, C, and E.
Continue Learning about Healthy Skin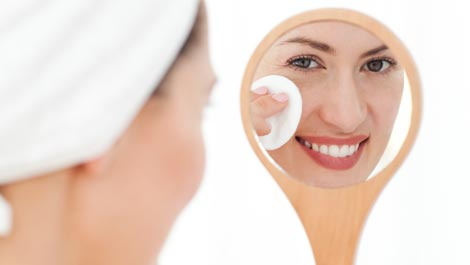 Staying out of the sun and away from tanning beds is the easiest way to get great-looking skin. The suns UVB and UVA rays cause skin damage, which is prematurely aging, and skin cancer. Every day you should wear a broad-spectrum s...
unscreen, which blocks UVB and UVA rays, with an SPF of 15 or higher. Reapply at least every two hours while outdoors. For a dewy glow, use skin-care products with 10 ingredients or less to reduce irritation, use moisturizer and feed your skin from within. Dark chocolate and antioxidant-rich foods such as cantaloupe, citrus fruits, blueberries and leafy greens improve the skin's appearance.
More