A blended smoothie can offer the perfect breakfast, lunch or snack. Start with your favorite fruits and some low-fat or almond milk and then throw in a handful of greens for an added nutritional boost (1 cup of greens equals one serving of veggies). If you're worried that you won't like the flavor of the spinach or romaine, add a banana, or a small spoonful of peanut butter, or both and you won't taste the greens.
Eat Your Greens Fruit Smoothie
Serves: 2

Ingredients
5 ounces baby spinach
1 banana
1 cup frozen or fresh blueberries
1/2 cup unsweetened soy, hemp or almond milk
1/2 cup pomegranate juice or other unsweetened fruit juice
1 tablespoon ground flaxseeds
Directions
Blend all ingredients in a high powered blender until smooth and creamy.
CALORIES 196; PROTEIN 6g; CARBOHYDRATES 39g; TOTAL FAT 3.6g; SATURATED FAT 0.4g; SODIUM 94mg; FIBER 6.9g; BETA-CAROTENE 4245mcg; VITAMIN C 34mg; CALCIUM 111mg;
IRON 3.3mg; FOLATE 167mcg; MAGNESIUM 105mg; ZINC 0.9mg; SELENIUM 5.1mcg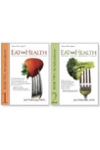 Here's a delicious green smoothie recipe:
Ingredients (3 servings):
3/4 cup Greek yogurt
1/4 cup strawberries
1/2 cup milk, skim
1/2 cup pineapple chunks
1 banana
1 cup spinach, packed
Directions: Combine all ingredients in a blender and blend until smooth.
Nutritional information (per serving): 108 calories, .3 grams fat, 22 grams carbohydrates, 2.0 grams fiber, 5.5 grams protein, 32 percent vitamin C, 21 percent vitamin A and 10 percent calcium
Continue Learning about Recipes for Healthy Cooking