One way to incorporate quinoa into your diet is by making quinoa blueberry pancakes; simply substitute flour for quinoa, which boosts the nutritional value of the meal. Watch me describe this healthy tip using quinoa.
Quinoa Bean Salad
Serves: 6

Ingredients
2 cups cooked quinoa
1 1/2 cups cooked white beans or 1 (15 ounce) can white beans, no salt added or low sodium, drained
1 cup grated carrots
1 cup currants
1/2 cup walnuts, chopped
2 plum tomatoes, chopped
1 small red onion, thinly sliced
1/2 green bell pepper, chopped
1/2 red bell pepper, chopped
1/2 orange or yellow bell pepper, chopped
3 cloves garlic, minced
1 tablespoon chili powder
2 teaspoons Bragg Liquid Aminos or low sodium soy sauce
Directions
Cook quinoa according to package directions.
Place all other ingredients in a large bowl and mix.
Add cooked quinoa and toss.
CALORIES 383; PROTEIN 15g; CARBOHYDRATES 67g; TOTAL FAT 9g; SATURATED FAT 1g; CHOLESTEROL 0.1mg; SODIUM 122mg; FIBER 13.6g; BETA-CAROTENE 2018mcg; VITAMIN C 58mg; CALCIUM 128mg; IRON 6.3mg; FOLATE 153mcg; MAGNESIUM 149mg; ZINC 2.4mg; SELENIUM 2.2mcg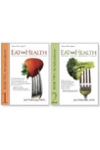 Continue Learning about Recipes for Healthy Cooking