Try this healthy recipe for Chuice Zucchini Bread.
Ingredients:
3 eggs
1 cup green Chuice (red should work fine also)
1/4 cup sugar
2 teaspoons vanilla
2 cups white whole wheat flour (plus more if needed)
1 teaspoon baking powder
1 teaspoon baking soda
1 tablespoon cinnamon
2 cups shredded zucchini
1 cup chocolate chips
1 cup crushed pecans
Preparation:
Preheat oven to 350 degrees Fahrenheit. Coat three small loaf pans with cooking spray (other sizes work too, just adjust the baking time).
Beat eggs, Chuice, sugar, and vanilla until it gets foamy. Add baking powder, baking soda, cinnamon, and flour to eggs. Consistency should be thick -- not runny -- so add more flour if necessary.
Stir in the shredded zucchini and chocolate chips. Then pour half of the mixture into each pan. You can add a handful of chips on top of each loaf.
Bake about 30-35 minutes until a toothpick inserted comes out clean.
Using whole grains in your baking is a great way to increase nutritional value. Heart-healthy whole grains take longer to digest, meaning you'll feel fuller, longer. This recipe pairs whole wheat with other good-for-you ingredients like pineapple, zucchini, oat bran, almonds and tofu—that's right, the moist texture of this quick bread comes from silken tofu!
Spiced Pineapple Zucchini Bread
Makes: 2
Prep Time: 10 min.
Cook Time: 60 min.
Ingredients
2-1/3 cups whole wheat pastry flour
2/3 cup oat bran
1/3 cup yellow cornmeal
1/2 teaspoon sea salt
1 teaspoon non-aluminum baking powder
2 teaspoons baking soda
1/8 teaspoon ground cloves
1 teaspoon ground cinnamon
1/4 teaspoon ground nutmeg
1 cup diced dried pineapple
1/2 cup chopped almonds
12 ounces lite silken tofu
1/2 cup unsweetened applesauce
2 cups evaporated cane juice
1/2 cup enriched soymilk
1 tablespoon pure vanilla extract
2 cups coarsely shredded zucchini
Directions
1. Preheat oven to 350°F. Spray two 9" by 5" loaf pans with olive oil cooking spray.
2. In a large bowl, combine the flour, oat bran, cornmeal, salt, baking powder, baking soda, cloves, cinnamon and nutmeg.
3. Stir in the dried pineapple and chopped almonds. Set aside.
4. Place the tofu in food processor and blend until smooth. Add applesauce, cane juice, soymilk and vanilla.
5. Quickly fold the tofu mixture into the dry ingredients, then add the zucchini. Do not overbeat.
6. Divide the batter between the prepared pans. Bake on center rack of oven for 60 minutes or until tester comes out clean. Set aside to cool.
Continue Learning about Recipes for Healthy Cooking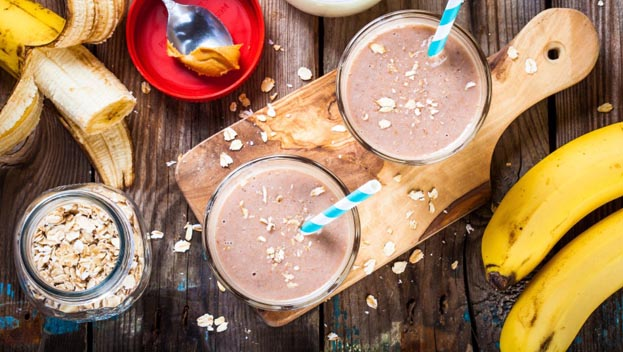 Discover healthy, delicious recipes for breakfast, lunch, dinner and desserts.