Island Shake
Makes: 3 servings
Prep time: 6 minutes
Cook time: 0 minutes
Ingredients
1 medium, ripe DOLE® Banana
2 cups DOLE Frozen Mango Chunks or Sliced Peaches, partially thawed
1 cup DOLE Pineapple Juice
1 carton (6 ounces) peach or pina colada low fat yogurt
1/2 teaspoon finely grated lemon peel
Directions
Combine banana, mango chunks, pineapple juice, yogurt and lemon peel in blender or food processor container. Cover; blend until smooth.
I love mangos! They are incredibly delicious, as well as an excellent source of vitamin C and owe their intensely colored flesh to high levels of carotenoids, a type of antioxidant. They are also a good source of vitamin A, which is vital for our immune systems. Mangos are also loaded with fiber.
Here's my vegan
Coco-Mango Smoothie
recipe from my cookbook,
Eating in Color
. It has all the powers of mango, plus the anti-inflammatory properties of turmeric. If you want to add a protein boost, add a scoop of protein powder made from plant protein. I hope you enjoy it!
Coco-Mango Smoothie
Serves 2
1 large ripe mango, peeled, pitted and diced
Finely grated zest and juice of 1 lime
½ cup coconut butter, such as Nutiva Coconut Manna
1 teaspoon ground turmeric
1 cup ice, plus more for serving
In a blender, combine all of the ingredients with 1 cup of water and blend until smooth. Pour into 2 glasses over ice, if desired, and serve.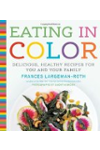 Continue Learning about Recipes for Healthy Cooking