The secret to these delicious and easy crisps is a nonstick or well-seasoned cast iron pan. These crisps are perfect served with dips, soups or salads. Buy the pre-shredded Parmesan, not the grated variety, because the shredded Parmesan makes for a great, crisp texture.

Belly Fat Cure Cheesy Parmesan Crisps

Makes: 4 servings

Ingredients

½ cup shredded Parmesan cheese

Directions

Heat an 8" pan over medium-low heat. Sprinkle cheese in an even layer, covering the
bottom of the pan. Cook 2–3 minutes or until melted. Flip and cook 1 minute more.
Remove cheese round from pan and place on a cutting board. While still warm, cut
round in half with a sharp knife or pizza cutter. Cut each half into 6 wedges for a total
of 12 crisps per round.

For croutons: Follow instructions above; while still warm, remove cheese from pan
and roll into a log. Flatten the log with your hand, and cut into squares for croutons.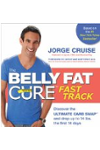 Continue Learning about Recipes for Healthy Cooking