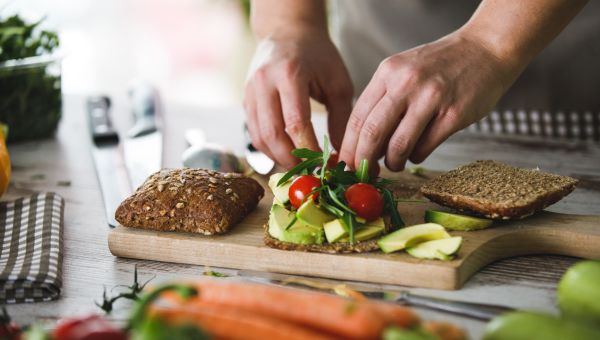 Skip the boring salad and sink your teeth into a dietitian-approved sandwich with fewer than 500 calories.
1 / 8
Sandwiches are tasty, convenient and, with the right ingredients, make a great meal. Registered dietitian Tracy Gensler analyzed the nutritional recommendations for people with diabetes and created seven scrumptious sandwiches. These meals are guilt-free and a good choice for anyone keeping an eye on calories, carbohydrates, cholesterol, sugar or sodium.
Tracking your meals can also help you monitor your nutrient consumption, and apps like Sharecare, available on iOS and Android make it so simple. Just download the app, open the tracker and record the size and quality of your meals.
Give one of these better-for-you wrap and sandwich options, each paired with wholesome snacks, a try and track it.
Medically reviewed in August 2018. 2 / 8

Almond and ricotta wrap

In the mood for something sweet this lunch hour? Skip a trip to the vending machine and enjoy this creamy wrap. Serve beside a cup of baby carrots and a tablespoon of balsamic vinegar (for dipping) and you've got yourself a well-balanced meal under 500 calories.

Ingredients:
½ teaspoon honey
One 8-inch whole grain wrap, like an Ezekiel Sprouted Whole Grain Tortilla, or one with no more than 150 calories and at least 5 grams of fiber
1 ½ tablespoons almond butter
¼ cup part skim ricotta cheese

Directions:
Drizzle honey inside the wrap. Combine almond butter and ricotta cheese until smooth. Fill wrap with ricotta mixture and fold.

Nutrition:
Calories: 458.6, Protein: 19.6 g, Carbohydrate: 51.7 g, Dietary Fiber: 11.4 g, Total Sugars: 15.1 g, Cholesterol: 19.1 mg, Sodium: 308.6 mg 3 / 8

Sweet and savory grilled cheese

A healthy grilled cheese—who knew? Enjoy dipped in balsamic vinegar and served with a helping of fresh veggies.

Ingredients:
2 teaspoons light butter
2 slices whole grain bread, no more than 80 calories and at least 2 grams of fiber per slice
1 ½ ounces light cheddar cheese
2 teaspoons all fruit jelly, any type
1 ½ cups sliced vegetables, any type
Balsamic vinegar

Directions:
Coat your skillet with cooking spray and heat. Spread butter on one side of each slice before placing one slice into the pan, butter-side down, and topping with cheese. Spread jelly on the butter-less side of the other slice. Place jelly and cheese together and heat each side for 4 minutes.

Nutrition:
Calories: 404.0, Protein: 24.3 g, Carbohydrate: 50.1 g, Dietary Fiber: 9.6 g, Total Sugars: 10.3 g, Cholesterol: 32.4 mg, Sodium: 499.6 mg 4 / 8

Turkey bacon and apple wrap

You can't go wrong with bacon! Enjoy crunchy turkey bacon strips and crisp apple slices in a wrap that's sure to make your taste buds—and waistline—happy.

Ingredients:
Three slices turkey bacon, equal to 105 calories
1 tablespoon light mayonnaise
One 8-inch whole grain wrap, no more than 150 calories and at least 5 grams of fiber
One medium apple, with skin, thinly sliced

Directions:
Cook turkey bacon according to package directions. Spread mayonnaise on wrap and fill with bacon and apple slices.

Nutrition:
Calories: 361.9, Protein: 12.4 g, Carbohydrate: 44.3 g, Dietary Fiber: 8.3 g, Total Sugars: 15.0 g, Cholesterol: 20.3 mg, Sodium: 536.3 mg 5 / 8

Veggie and cheddar wrap

This cheesy veggie wrap is packed with fiber and a hint of sweetness. What's more? It requires no cooking or heating and will keep you satisfied until dinner.

Ingredients:
1 ounce light cheddar cheese
¼ cup grape tomatoes, halved
¼ cup green bell pepper, chopped
1 tablespoon onion, chopped
2 tablespoons raisins
2 teaspoons olive oil and balsamic vinegar
One 8-inch whole grain wrap

Directions:
Toss tomatoes, peppers, onions and raisins with oil and vinegar. Place your mixture inside the wrap and layer in your cheese. Roll and dig in! Not a fan of raisins? Rinse a ¾-cup serving of fresh berries to enjoy on the side.

Nutrition:
Calories: 394.1, Protein: 15.5 g, Carbohydrate: 47.5 g, Dietary Fiber: 7.1 g, Total Sugars: 17.1 g, Cholesterol: 15.0 mg, Sodium: 319.9 mg 6 / 8

Turkey, cucumber and cream cheese sandwich

This classic has enough protein and fiber to fill you up, and keep your taste buds satisfied. Nosh with a cup of grapes or berries and a tablespoon of nuts.

Ingredients:
2 slices whole grain bread, no more than 80 calories and at least 2 grams fiber per slice
1 tablespoon light veggie cream cheese
¼ medium cucumber, sliced
2 ounces sliced turkey

Directions:
Spread cream cheese on both slices of bread. Layer sliced cucumbers and turkey on one slice and top with the other.

Nutrition:
Calories: 366.6, Protein: 23.8 g, Carbohydrate: 50.6 g, Dietary Fiber: 7.7 g, Total Sugars: 16.4 g, Cholesterol: 38.4 mg, Sodium: 557.9 mg 7 / 8

Banh mi with kim chee and chicken sandwich

Devour this mix of sour and spice. Kimchi is a traditional Korean dish of fermented cabbage and radishes seasoned with chili powder, garlic and ginger. Pair this creation with a cup of berries and 1 ½ tablespoons of nuts.

Ingredients:
One 8-inch whole grain wrap, no more than 150 calories and at least 5 grams of fiber
1 teaspoon horseradish spread, if desired
3 tablespoons kimchi
¼ medium cucumber, sliced
2 ounces reduced sodium sliced chicken breast or leftover chicken breast

Directions:
Spread horseradish on one side of your wrap, and fill with kimchi, cucumbers and chicken before rolling.

Nutrition:
Calories: 374.8, Protein: 22.2 g, Carbohydrate: 43.7 g, Dietary Fiber: 7.9 g, Total Sugars: 15.6 g, Cholesterol: 32.0 mg, Sodium: 678.5 mg 8 / 8

Avocado, egg and tomato sandwich

Kickstart your morning with this nutrient-rich combination of avocado and tomato, paired perfectly with an egg cooked your way.

Ingredients:
One egg
Dash black pepper and salt
Two slices whole grain bread, no more than 80 calories and at least 2 grams of fiber per slice
½ avocado
1 teaspoon olive oil
One small tomato, sliced

Directions:
Coat skillet with cooking spray, fry egg to desired doneness and sprinkle with pepper. Eggs can also be scrambled or poached. Mash avocado with oil and salt. Toast both slices of bread and spread the avocado mixture on one piece. Layer on your egg and tomato slices before topping it off with a second slice of bread.

Nutrition:
Calories: 398.4, Protein: 16.4 g, Carbohydrate: 39.8 g, Dietary Fiber: 11.6 g, Total Sugars: 3.0 g, Cholesterol: 186.0 mg, Sodium: 385.6 mg
Continue Learning about Recipes for Healthy Cooking