What is a low-calorie substitute for mashed potatoes?
The salt, butter and cream of many mashed potato recipes can really wreak havoc on your healthy eating plans. Try using garlic to add flavor instead of salt. I have also seen recipes using low-sodium chicken broth to add flavor. In place of butter and cream, try using low-fat sour cream. Even just substituting low-fat or skim milk in place of the cream and using a smaller amount of omega-3-rich butter substitute can help out. Often the greatest way to make less of a fat and calorie impact is to simply allow yourself a smaller portion than what you normally would eat. Oh…skip the gravy if possible.
Potatoes are naturally low in calories and fat. One medium potato (2 1/4 to 3 1/4 inches in diameter) is just 168 calories according to the USDA Nutrient Database. It's usually what we put on them that makes the calories add up. So you could simply substitute mashed potatoes with a baked potato or roasted potato wedges or you could still have mashed but change your recipe a bit.
You can use half the butter and replace cream or whole milk with skim milk instead. Also, using non-fat chicken broth adds flavor and moisture to mashed potatoes without a lot of fat and calories. I also recommend spicing them up with fresh chives, garlic, and black pepper. You won't miss the butter and cream if you make them more flavorful with herbs and spices.
There's another vegetable you can use as a low-calorie substitute for mashed potatoes, and it tastes just as good!

Watch the video to learn about Dr. Oz's low-calorie substitute for mashed potatoes.
Eat More, Weigh Less, Pt. 2
Continue Learning about Recipes for Healthy Cooking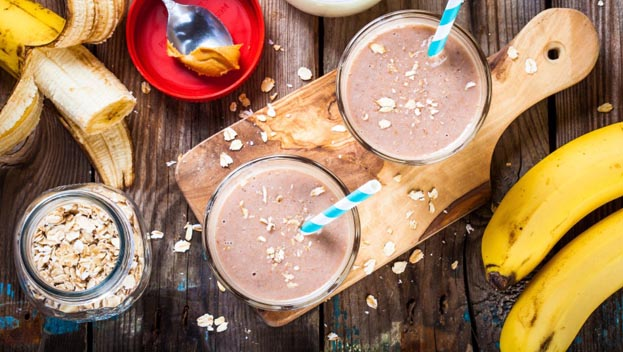 Discover healthy, delicious recipes for breakfast, lunch, dinner and desserts.