Consider using ingredients like olive oil, nut oils or canola oil as well as different types of mustard and flavored vinegars. Play with adding two different kinds of fresh herbs and limit the amount of salt or sugar that you add. There are salt substitutes on the market that provide the taste of salt without the sodium "health risk" component.
In addition to adding these dressings in measured amounts to a fresh salad, you can also try marinating fresh vegetables and then roasting or grilling them to add a bit of flavor. Adding those to a salad will allow you to reduce the amount of dressing you use. This may help to get "resistant veggie eaters" to try them!!
Other ways to cut down on the amount of dressing you use:
Measure by the teaspoonful
Dip instead of pouring dressing on the salad
Only dip your fork into the dressing, before picking up your salad greens
A great tossed salads is nothing without a delicious dressing. Homemade salad dressings are simple to make, taste better, and are much healthier than the store- bought bottles.

To make homemade salad dressing, simply start with a container that has a tight-fitting lid. Add the dressing ingredients from one of the recipes below to the container, cover it, and give it a good shake. It's that easy!

Classic French Dijon:
3/4 cup olive oil
1/4 cup white wine vinegar
1/2 teaspoon Dijon mustard
Pinch of salt & pepper

Creamy Dill:
1/2 cup plain yogurt
1/2 cup fat-free mayonnaise
1 teaspoon lemon juice
1 teaspoon chopped green onions
1 tablespoon fresh dill, chopped
Pinch of salt & pepper

Sweet Balsamic:
1/2 cup olive oil
1/4 cup balsamic vinegar
1-2 garlic cloves, minced
1 tablespoon sugar
Pinch of salt & pepper

Sesame:
1/2 cup olive oil
1 tablespoon sesame oil
2 tablespoons soy sauce
1/4 cup rice vinegar
2 teaspoon fresh ginger, minced
2 tablespoons brown sugar

Lemon Garlic:
1/2 cup olive oil
1 tablespoon white wine vinegar
3 tablespoons lemon juice
1-2 cloves garlic, minced
Pinch of salt & pepper

For your next salad, make a healthy salad dressing in three easy steps:
Pour two Tablespoons of olive oil into a small bowl.
Whisk in a Tablespoon of vinegar. Have fun with different flavors. Champagne vinegar and raspberry vinegar are great summer choices.
Salt and pepper to taste.
To make a citrus dressing, substitute vinegar with lemon, lime or grapefruit juice.
Make your own creamy dressings with low-fat mayo, nonfat milk, low-fat buttermilk, and low-fat cottage cheese (which makes a good base for a blue-cheese dressing). If you prefer oil-based dressings, experiment with different types of oils. Extra-virgin olive oil and canola oil are excellent choices. So are flax and walnut. These specialty oils' subtle flavors can complement your veggies. Add Dijon mustard to vinaigrettes, or horseradish to creamy dressings. Experiment with herbs and spices, too. Use fresh herbs, if you can—their flavor is more intense than dried—and grind your own pepper and other spices. As with bottled dressings, watch your serving size of homemade varieties. Stick to two tablespoons, so you won't rack up the calories.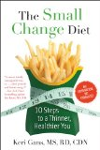 A salad can make for a healthy meal as long as those leafy greens aren't drowning in dressing. Watch this video to learn about a healthy alternative to oily salad dressing from renowned chef and Dr. Oz guest John Besh.
Continue Learning about Recipes for Healthy Cooking