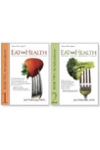 Mediterranean Fish Stew
Serves: 4

Ingredients
2 red bell peppers, sliced
2 medium onions, sliced
1 medium eggplant, cut into 1-inch pieces
2 medium zucchini, cut into 1-inch pieces
1 cup sliced mushrooms
6 medium tomatoes, chopped
2 cloves garlic, finely chopped
1 teaspoon herbes de Provence (dried French herbs)
1/4 teaspoon black pepper
1/2 pound firm fish fillets, cut into 1-inch pieces (such as halibut, bass, salmon)
2 tablespoons fresh chopped parsley
1 tablespoon fresh lemon juice
Directions
Heat 1/8 cup water in a large pan. Add the bell peppers and onions and cook for 3 minutes, add the eggplant, zucchini and mushrooms and continue cooking for another 6-8 minutes or until tender, adding more water if necessary to keep from sticking.
Add the tomatoes, garlic, herbes de Provence and black pepper and simmer on low heat for 4 minutes.
Add the fish to the stew and mix in gently. Cover and simmer on low heat for 8-10 minutes, stirring occasionally.
Before serving, stir in parsley and lemon juice.
CALORIES 192; PROTEIN 23g; CARBOHYDRATES 29g; TOTAL FAT 2.5g; SATURATED FAT 0.4g;
CHOLESTEROL 18.1mg; SODIUM 60mg; FIBER 10.7g; BETA-CAROTENE 2045mcg; VITAMIN C 129mg; CALCIUM 102mg; IRON 3mg; FOLATE 139mcg; MAGNESIUM 121mg; ZINC 1.5mg; SELENIUM 24.1mcg