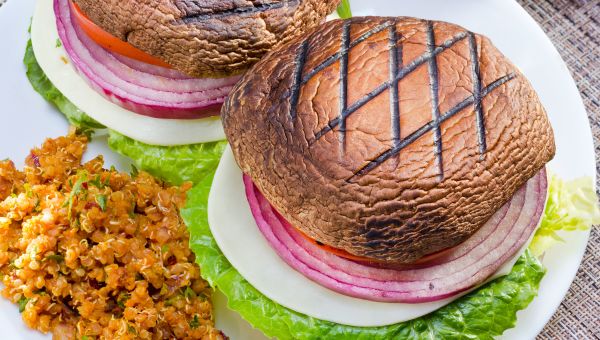 Looking for the perfect burger without all the extra saturated fat from the meat? You can't go wrong with a Portobello mushroom burger. The juicy mushroom doesn't just add flavor, it's also plump with loads of nutrients like Vitamin D and selenium.
Ingredients:
4 Portobello mushrooms, stems removed
3/4 cup sake
3 tbsp soy sauce
3 tbsp balsamic vinegar
1 tbsp olive oil
3 garlic cloves, finely chopped
juice of one lemon
4 crusty rolls
1/2 cup watercress
grilled yellow and bell peppers (optional)
vegan mayo (optional)
Preparation:
Mix all marinade ingredients together. Place mushrooms (gills up) on baking sheet. Gently spoon marinade over mushrooms every 10 minutes for a half hour. Using a grill brush, grease up your grill with olive oil. Preheat with medium or high heat.
Place mushrooms (gills up) on grill. Close lid and let mushrooms grill for about 5 minutes, lifting the lid to baste with marinade every few minutes. For cross-hatched grill marks, turn mushrooms 90 degrees and cook for about 3 more minutes.
Flip mushrooms over and cook for 3 minutes. Grill times may vary, so gently press where stems used to be. Once they're soft and juicy, remove from heat and let rest for a few minutes. If using peppers, baste peppers with olive oil before grilling.
Arrange sandwich with watercress, peppers and mayo (if using). Enjoy!
This content originally appeared on doctoroz.com.
Medically reviewed in May 2019.