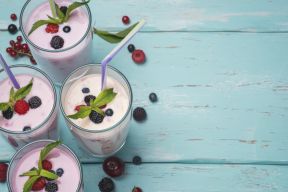 For a sweet treat that'll help your skin from the inside out, try Dr. Amy Wechsler's berry smoothie.
Wechsler, Sharecare's own skin expert and author of The Mind-Beauty Connection, has a recipe that really packs in the face-friendly nutrients, thanks to a dose of makes-your-skin-glow omega-3 fats from flaxseeds.
Dr. Wechsler's Skin-Fresh Smoothie
• 1 cup water (plain), or soymilk, or low-fat or skim milk
• 1 cup fresh or frozen berries of your choice (try a medley of raspberries, blueberries, and blackberries
• 2 tablespoons flaxseed meal or flax oil
• Ice and agave nectar to taste
• Optional: 1 scoop vanilla or chocolate whey protein powder
Combine water or milk, berries, and flax in a blender. Cover, and blend until smooth. Taste. If you want it thicker, add ice. If you want it sweeter, add a tablespoon of agave nectar. If you want extra nutritional punch, add the protein powder. (Natural-food stores carry a wide variety of these; just make sure not to buy meal-replacement powder.) If you want more good-for-your-skin nutrients, blend in some vegetables like cucumber or broccoli, too. With the sweetness of the berries, Dr. Wechsler notes, you won't even taste the veggies.