The nose is really the gateway to the sinuses. The ethmoid (between the eye and nose), maxillary (below the eye) and frontal (above the eye) sinuses all drain their mucus in a groove below the middle turbinate, one of three turbinates or bumps on each side of the nose.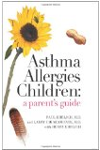 More About this Book
Asthma Allergies Children: A Parent's Guide
Asthma and allergies are at epidemic proportions. It doesn't have to be that way. Two experienced pediatric allergists tell everything a conscientious parent needs to know about these conditions,...
The nose (along with the mouth) is the entrance point to your lungs and the first step in the breathing process. Sinuses are cavities located in your head that drain into the nasal cavity. As the air enters your nose, into the nasal pathway, your inhaled air passes by four sets of sinuses that are located in your head. Each of these sinuses have very little interaction with your airflow but they do drain into the nasal pathway. As the air enters your nose it passes by your cheek sinuses (the maxillary sinuses) located below your eyes, it passes around your ethmoid sinuses (located between your eyes right below the bridge of your nose), it passes under your frontal sinuses (located in your forehead above your eyes) and then in front of your sphenoid sinuses (located in the back of your nose directly above your throat).
Continue Learning about Healthy Nose