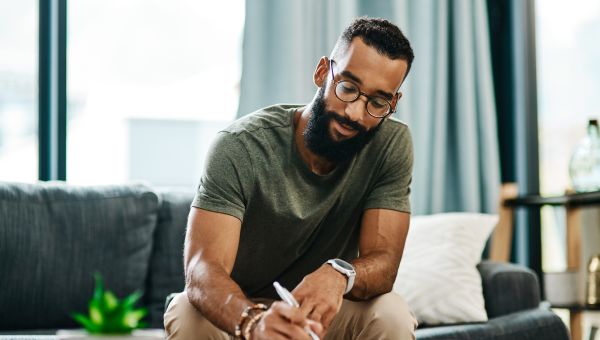 Here are five expert tips to help you make your resolutions stick all year long.
What's your New Year's resolution? Is it to start exercising? Lose weight? Quit smoking? Stop stressing out? Chances are you're already taking the right steps to make your resolution happen. But how do you stay motivated to reach your goal after January is over? We've got five expert tips to help you make your resolutions stick all year long.
1. Start tracking
Now that you've come up with your New Year's resolutions, it's time to track your progress. Write down your accomplishments in a journal or on a calendar. Or you can log in to Sharecare and track your activity and calories on the Fitness tab of your profile. Research shows that keeping a record of your journey ups your chances of keeping your resolution.
2. Reward yourself
As you work toward your resolution, make a point to celebrate your success – big or small. Treat yourself to a new gym outfit, a mani/pedi, even a nap – and make sure to reward yourself "immediately and every time" you achieve even a small goal, says psychologist and behavioral change expert John C. Norcross, PhD. Reinforcing your progress can keep you moving towards your goal.
3. Choose the right hangouts
You want to put yourself in environments that will help, rather than hurt you in accomplishing your goal. Limit your exposure to situations that could derail your success. For example, if your resolution is to eat healthier, skip pizza night out with your girlfriends. If you're trying to quit smoking, don't spend time in a smoky bar.
4. Think happy thoughts
There's something to be said about the power of positive thinking. Research shows that people who have a "glass is half-full" mentality are more likely to succeed. Your attitude can make a difference between what you do, and what you fail to do. Staying positive and praising yourself for small steps will keep you on track to the finish line. Need help cultivating positive thinking?
5. Snap back from slip-ups
Most people who ultimately achieve their goals may let them slide in January – so remember that a slip-up isn't necessarily a fall. Just pick yourself up and recommit to your resolution. Don't let one missed exercise class end your workout program or one hot fudge sundae derail your diet. In fact, one study showed that 71% of people who kept their resolutions said their first slip actually made them stronger!
Medically reviewed in April 2019.