As people grow older, toenails may become thicker, making them harder to cut. Here's a home remedy that works: apply a bit of Vicks VapoRub ointment (normally used for easing chest congestion) to your thick nails, massaging it on gently. Wipe off any excess ointment before pulling on socks or going to bed. After a month or so of daily applications, you should find your toenails softer and easier to trim. It's not clear why this works, but one of the ingredients in Vicks VapoRub (probably the eucalyptus oil) apparently softens the nails and makes them easier to cut.
Continue Learning about Healthy Nails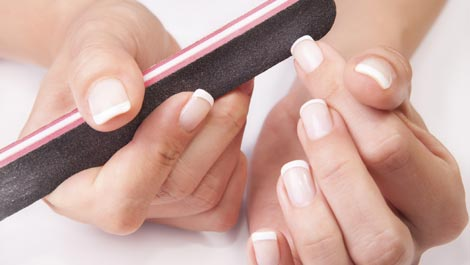 For healthy fingernails, pamper them daily with a gentle buffing or a massage. This increases circulation to the nails, keeping them from cracking and peeling. Rubbing petroleum jelly, vitamin E or a cuticle cream into the cuticle...
s at night will keep them moisturized and also promote nail strength. Wear gloves when washing dishes or cleaning to prevent nails from becoming brittle, and don't use nail polish remover that contains formaldehyde or acetone, both of which are drying.
More