You can strengthen your nails by sipping herbal tea, says clinical nutritionist Kimberly Snyder. Learn more about the go-to brew for strong, healthy nails by watching this video.
There is some evidence that taking biotin, a water-soluble B vitamin, does help treat brittle nails. Otherwise, dietary changes that supposedly strengthen nails don't work. For example, unless you're deficient in protein—rare among people in the United States—adding protein to your diet won't strengthen your nails. Similarly, all those teenagers in the 1960s were wrong; eating or soaking your nails in gelatin won't help either.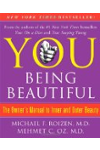 Brittle nails that are soft, thin and easily torn are a problem for many women. The solution is biotin, a B vitamin that helps strengthen nails. Before opting for a biotin supplement, try snacking on walnuts. As well as being an excellent source of biotin, walnuts are rich in other beauty enhancers—like wrinkle-reducing omega-3s.
This content originally appeared on doctoroz.com.
Continue Learning about Healthy Nails