There are several symptoms associated with overactive bladder. You may feel a strong need to use the bathroom that comes on suddenly. Sometimes, you may actually leak urine. You may urinate more often than usual. In fact, you may need to urinate more than eight times per day. Your symptoms may even cause you to wake up during the night to run to the bathroom.
The most prevalent symptom of urge incontinence is the sudden, unpredictable need or urge to urinate, often resulting in the loss of urine (to a lesser or greater degree) for no apparent reason whatsoever.
You may feel the need to void, or void involuntary when:
1. You are sleeping
2. You drink water
3. You touch water (doing the dishes or the wash)
4. You hear water running (when someone is doing the dishes)
5. You are exposed to cold
6. You hurry home, and no sooner than you use your key (or garage door
opener), you begin to leak urine. This last situation is commonly
referred to as "key-in-lock" syndrome.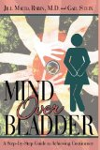 Continue Learning about Healthy Kidneys & Urinary System