Time is energy. Stop for a moment and take a deep breath. Be mindful and be present in this moment. Can you feel the power of being present in this moment in time? Time is a moving energy that propels life and creation forward. This is an incredibly powerful energy. For all of us living in this era it can truly be said that time is our most valuable gift. Every moment that passes is gone never to return.

When I was in graduate studies at Emory we learned about two different names for and understandings of time. One is chronos and the other is kairos. Chronos is human's experience and measurement of time. Chronos is ordinary and chronological time. It is the time we live by on our clocks. This is the linear time that measures what time we eat, when we go to work, when we are born, and when we die. Kairos is an ancient Greek word with a different concept of time. Kairos means the fullness of time. It means that now is an opportune or right time. This is a time filled with meaning and choice. Kairos means "holy" or "Divine" time, pregnant with new possibilities, renewal, and decisive action.

When we race through our days we miss the vital energy available because we spend time playing video games, surfing the Web, commuting, watching mindless television. Then there are the hard working, exhausted, overwhelmed parents and children racing through their lives like a train running down the tracks out of control, with the brakes burned out. Many of us know that the speed of the train called life is not sustainable, but we still choose to pull down the shade over the window so we don't see how fast the scenery is speeding by on our way to our deaths. It may sound gloomy, but too many of us are living this way.

People today almost act as if time is their enemy and not their guide and companion. As you develop reverence for your time, you will learn to have reverence and love for this gift of time. It is precious, fleeting, and every moment is full of potential until you take your last breath.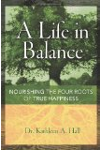 Continue Learning about Healthy Habits