It can be hard to live a healthy lifestyle if we believe there are hard and fast rules to achieving it. When somebody tells us that we can reverse our habits with three apples, 20 minutes on the stair machine, four pills and a frighteningly green kale smoothie every day, we think, "Oh my word, I don't have the energy to do all of that." But the real secret isn't an expert telling you what to do. It's you finding what makes it easier and more fun for you to make healthy choices because you want to. To do that, it's not about learning what makes your heart tick mechanically but what makes it beat deeply emotionally, psychologically.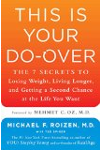 More About this Book
This Is Your Do-Over: The 7 Secrets to Losing Weight, Living Longer, and Getting a Second Chance at the Life You Want
From one of America's most trusted physicians and the bestselling coauthor of the YOU series with Dr. Mehmet Oz—this practical and empowering guide shares the seven secrets to losing weight, restoring peak vitality, and regaining optimal health at any age.No matter whether you're a stressed-out workaholic, a couch potato, or a marshmallow addict, it's never too late to get a second chance. You do not have to let genetics or bad choices of the past dictate your health outcomes. In fact, you have the power to change your body—as well as which of your genes are switched on—no matter how you've lived in the past.In This Is Your Do-Over, Dr.Michael Roizen, four-time New York Times #1 bestselling author and renowned Chief Wellness Officer of the Cleveland Clinic, provides the tools you need to slam the brakes on bad health and press the gas pedal to good health. In the book, he addresses all the areas that contribute to total-body wellness, including nutrition, exercise, sex, stress, sleep, and the brain. Using concrete strategies that anyone of any age can use, Dr. Roizen shows you how to change your heath destiny with his seven simple secrets to earning a Do-Over. He even shares the key step missing in most other programs: how to select and partner with the proper buddy or coach to get you to your goals. Grounded in cutting-edge scientific research and culled from Dr. Roizen's experience coaching thousands, This Is Your Do-Over is the ultimate guide to reversing damage, optimizing health, and living a life filled with energy and happiness. It is not too late; your Do-Over starts now.
Continue Learning about Healthy Habits