One of the most widely accepted theories suggests that forming or changing a habit occurs in three stages:
First, you must identify the habit you wish to adopt or change.
Next, you need to raise your awareness of the reason(s) why you need to adopt new behaviors or change old ones.
Finally, you should develop strategies for making the healthy change.
From Good Kids, Bad Habits: The RealAge Guide to Raising Healthy Children by Jennifer Trachtenberg.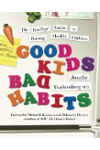 Continue Learning about Healthy Habits