Flip-flops are named for the sound they make when you walk, but they could have been called ouch-umphs—the sound you'll make after wearing them all the time.

This isn't just a matter of opinion. Researchers at Auburn University have found that wearing flip-flops alters the way one walks, changing the gait in subtle ways that can lead to serious sole, heel, and ankle problems. They presented their findings at the 2008 annual meeting of the American College of Sports Medicine.

The Auburn researchers videotaped 39 flip-flop-wearing volunteers and noticed how they scrunched their toes to keep the flip-flops on the foot while the heel lifted in the air. This motion stretches the plantar fascia, the connective tissue that runs along the bottom of the foot. When the plantar fascia and plantar muscles get stretched out, the result is inflammation, pain, tired feet, and sometimes heel spurs.

These were the very symptoms that student flip-flop wearers at Auburn reported upon returning to classes in the fall. An entire summer of flip-flop wearing had taken its toll.

The Auburn team also found that the gaits of the study volunteers had changed during the study. Their strides were shorter, and their ankles were turned in slightly, probably as a way to keep their flip-flops from falling off. The altered gait, the researchers speculated, could cause long-term ankle and hip problems.

Wearing flip-flops occasionally is fine. They're great at the beach or the lake. But the less-is-more trend in footwear—and the fun factor—have people wearing them all the time. Flip-flops may feel good in the short run: your feet stay nice and cool. But sandals with heel straps are the healthier choice, because your feet and toes don't need to clench and grab to keep them on. If you're going to wear flip-flops, you might try the ones made by Fitflops or Chaco. They've been endorsed by the American Podiatric Medical Association because they have a thicker sole, good arch support, and a deep heel cup that holds the foot and helps with shock absorption.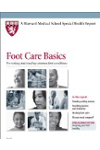 Continue Learning about Healthy Habits