Studies have shown that folks who volunteer have the added benefit of better overall health. In one study from the Johns Hopkins University Medical Center, older adults who served as volunteer reading tutors at a local elementary school improved on measures of cognitive well-being as well. In addition to giving us an opportunity to "do good," volunteering our time gives us the chance to stay intellectually and socially engaged, which have both been associated with reducing our risk for memory impairment.

Take a little time today to do something kind. Shovel your neighbor's walk (great physical exercise as well), pay an extra compliment to your teen, talk to someone who looks a bit lonely. Not only is it good for your brain, it's good for you.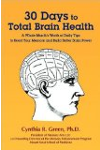 More About this Book
30 Days to Total Brain Health®
Get ready to make the move to better brain health! In this remarkably effective, scientifically-grounded plan, Dr. Cynthia Green, a clinical psychologist and one of the country's most notable experts...
Continue Learning about Healthy Habits