Make your schedule specific - listing when, where, and how you plan to sleep, eat, exercise, and socialize. You should set the following goals for healthy living:
Meals
Make time to sit down for a meal - preferably with others
Plan to consume your calories during meal time and not in between meals
If you need a snack, have a large glass of water plus fresh fruit or crunchy vegetables
Exercise
Plan to exercise a total of 150 minutes of moderate intensity, aerobic exercise (like brisk walking or hiking) each week
Try to exercise about 30 minutes per day, at least five days per week
Don't try to do all of your exercise in one long session
Vary your exercise so you don't get bored
Keep yourself well hydrated
Sleep
10 hours nightly if you're a pre-teen child
9 hours per night if you're a teenager
7-8 hours per night if you're an adult
Consider including one 30-minute, mid-afternoon nap each day
Socialize
Plan encounters with family, friends, and strangers
Take advantage of unexpected opportunities to connect with others in your community
Use Boo - your dog as an icebreaker
Take advantage of socializing opportunities during scheduled meals and exercise to interact with others
After making a schedule - chart your progress.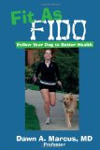 More About this Book
Fit As Fido: Follow Your Dog to Better Health
Let your dog teach you to live a happier, healthier, and more fulfilling life! Companionship with your pet can be used as a means and a motivator to increase your own physical and mental fitness....
Continue Learning about Healthy Habits