To make a life vision for your yourself, step 1 is realizing you need an overall vision for your life. Step 2 is getting to know you.

When you are dating and getting to know someone or even developing a new business relationship, it's all about taking the time to notice people and knowing where they are now and where they want to be in the future.

Creating a vision for your life begins the same way. When was the last time you really stopped to notice yourself? What do you look like? What do you spend the most time thinking about? What do you value the most? How do you work? What motivates you? What is the state of your relationships?

Step 3 in casting your vision is creating an umbrella statement for why you are building a personal vision statement. These may look like, "I want to live a healthy, joyful, connected life," or, "While climbing the corporate ladder, I want to balance my professional and personal life," or "I want to raise happy, healthy, kind children."

Your building blocks for achieving your vision are the tools, values, and desires you listed in step 2. Step 4 is to pull the most important elements you want to have going forward from the lists you created and write them under your umbrella statement.

Step 5 is to take a stab at writing a statement. This is not the final product, and I predict your vision statement will go through a lot of permutations before it is settled in your mind. This is an important exercise even if you never perfect it because it will stay in your mind as you frame your life day to day.

Step 6 is to walk away from the writing. Take some time to mull over all these lists you have made and the draft statement you wrote to imagine what living your statement means. What does your life look like if you live the life you've envisioned?

If you normally use your imagination, thinking through these questions will be easy for you. If you are normally a very concrete and logistical thinker, like I am, this may be a stretch. However, it's an important stretch to complement the list-making you just did. The last step before you cast a vision for your life is to talk about this process with someone who knows you. This will help you consolidate the lists of personal attributes you made while thinking it through by communication.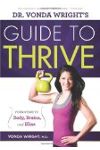 Continue Learning about Healthy Habits

Staying healthy doesn't happen by accident. It's the product of healthy habits practiced everyday. This could mean opting for an apple instead of chips with lunch, limiting your TV time, taking the stairs instead of the elevator o...
r setting health goals each month. Healthy living is a choice, and one that's easier to make than you think.
More