Having a really bad day? End it! Sometimes we can't fix a day that's gone really bad. The sooner you can end it, the sooner you can leave it behind and start afresh again. And if it's too early to end it, then try a nap to reboot yourself -- and your day. Be careful how your bad day is affecting your decisions (e.g., what you eat, how you behave in front of your children, and so on). Don't trade one bandage for another, such as soothing your bad day with an outrageous shopping spree that sinks your bank account. Continue to make informed decisions that feed your energy tank so you don't feel like a victim but you also don't feel deprived. Don't be afraid to cry! If you feel like it, it's a great option.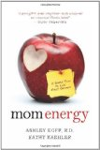 More About this Book
Mom Energy: A Simple Plan to Live Fully Charged
       From celebrated dietitian Ashley Koff and fitness trainer to the stars Kathy Kaehler comes Mom Energy, an exciting new way for moms to tap into their own natural and renewable sources of...
Continue Learning about Healthy Habits